The reality of running a dental practice is that the to-do list can often be endless - there are a million and one things to do to make your business effective from managing staff workloads, communicating with patients, marketing, credit control and financials and, most importantly, ensuring that practitioners deliver the highest possible levels of clinical care to patients.
Top of the agenda is reviewing and adapting internal processes to provide a safe place for staff to work, optimise workflows when faced with staff shortages and to manage the growing demand from patients and provide exceptional care.
Technology has been transformative in the way we all live, work and stay in touch with people over the past few years and for dental practices using easy to use cloud-enabled solutions like Dentally has proven to be an essential tool as we have had to be more agile and flexible in the way patient management is undertaken.
Because the new normal means that you've got more to do now than ever, it has been vital to ensure that your practice management is not slowing you down or hindering your ability to devote the time needed to care for patients and their oral health.
Dentally provides more than just the basics of software patient management. It helps you save time, reduce the admin burden and allow your staff to be more productive, efficient and agile in the way you manage and care for your patients. Optimising efficiency in the practice with simple workflows and automation tools will also save you money. There are a number of tools in Dentally that can help with this, today we look at: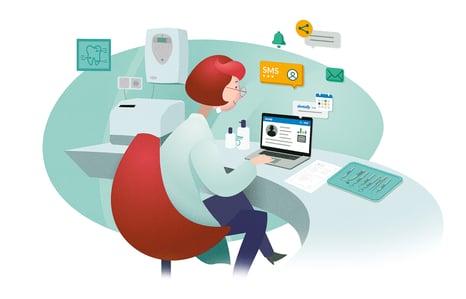 Managing your practice admin from any location

Automation taking the effort out of repetitive jobs

Tasks lists for efficient process management

Dentally Chat to keep your team talking
Work from anywhere
Dentally is completely cloud-based and is feature rich, so your team can securely work remotely whenever they need to, taking care of admin or dealing with telephone triage appointments. This level of flexibility means no disruptions when it comes to providing great patient care.
Dentally enables dental practice teams to divide their time between being on-site at the practice and work remotely from home in order to reduce staff numbers at the practice for social distancing or due to shielding or limited child care. All sensitive data is stored securely on the cloud rather than locally, and you have robust security for your users to login and access the data.
Take the effort out of repetitive tasks
Using automation to optimise your practice efficiency is an essential tool, keeping everything running smoothly in your practice, taking care of day to day admin and ensuring your patient communication is consistent.
Automating your patient communications means that you will never forget to create an invoice or message to a patient again! Automated Patient Communications in Dentally is simple to set up, allowing you to send messages to patients that can be scheduled around certain events such as appointments, creation of invoices or estimates. There are many different scenarios when this tool can really help your practice, from online medical history, appointment reminders and much more!
Automating your recalls also helps you keep your appointment book filled, so conversations are easier and delivered via a patient's preferred contact method in a timely manner. Automated recalls in Dentally means that you can set up recall messaging workflows within the software, which automate the process to send the patient an email, SMS or letter on the appropriate day and time.
Efficient practice management
Tasks List in Dentally allows dental practitioners to assign, track and undertake tasks to improve practice management and manage staff workloads whether they are working remotely off-site or on-site at the practice.
Patient-specific tasks such as phone calls, correspondence and other admin can be set against target dates whether they are recurring daily, monthly, yearly or periodically to ensure they are completed in a timely manner.
Keep your team connected
Dentally Chat is an instant messaging system that allows dental practitioners and their teams to communicate easily with one another, encourages social distancing and helps practices to run smoothly and save time.
Keep your team connected wherever they are working, whether you need to check details with a colleague or send a request from the surgery to the reception team.
Visit https://www.dentally.com.au/ or book a demo with us to discover how we can help you build the practice you want with our easy to use cloud enabled practice management solution.