The top priorities for all dental practitioners is delivering the best possible patient experience and exceptional clinical care while navigating the challenges of safeguarding both staff and patients.
Patients need to have confidence in their interactions with their dental practice at every stage, and there are high expectations of how that experience should work from simplicity and ease-of-use to minimising the time they spend with non-clinical staff.
The pandemic has impacted and altered how many of us think about and now use technology in our everyday lives. The Dentally Patient Portal is just one example of how tech has now become at the forefront of the way practices communicate with patients. It has proven in delivering a streamlined and safe patient journey, empowering patients to take control of their oral health and building loyalty to your dental practice - it saves the patient valuable time and reduces their effort.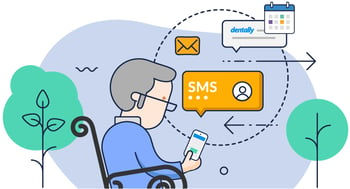 To enhance your patients' use of the Patient Portal, it is important to think about how you set it up, customise it to your branding and practice processes, and communicate clearly with patients - so they know exactly what they need to do.
Let's explore the steps you need to consider when successfully setting up the Patient Portal for your dental practice and allow your patients to manage their appointments and admin at their convenience. Remember you have control over your Portal set up, so you can easily configure it for your practice - whether you are a private, multi-site or NHS practice.
Step one: Set up your account
As you would expect from Dentally, the Patient Portal is straightforward to set up - so that you start using it in your practice quickly and effectively to help manage your patient's journey with your dental practice, develop better relationships and minimise the risk of COVID19 cross-infection concerns. There are two key actions that you need to perform to initially set up the Portal:
Once you have created your own account, you will be asked to complete a personalisation form so that we connect the Portal to your Dentally cloud-enabled practice management software. To get started, take a look at this support article which provides you with all the information you need from creating your account and how to link your Stripe account so that you can take online payments securely.
Step two: Configure the portal to your practice
Once you have completed the first step, you have the option to customise your Portal with your practice settings. This includes the following elements:
Opening hours for your practice
Creating the options for multiple sites (if applicable).
Populating your contact information
Your Privacy Policy to advise your patients of your GDPR compliance.
Adding different practitioners
Availability, appointment book and calendar settings
This ensures that your Patient Portal works for your practice and aligns with how you run your business, from opening hours to adding in all the dental practitioners within the practice. Find out more here. You will also find this article useful.
Step three: Add in your branding
As with any business, portraying your brand in the way you wish to present your dental practice is essential in developing your business and retaining patient loyalty.
The simple customisation features include adding your logo and brand colours. This means that your patients will instantly recognise and be confident that they are logging into the Portal for your practice. Details can be found here.
Step four: Tell your patients
Once your Patient Portal is set up, then it is of course essential to communicate with your patients - so they understand that this is now part of their experience with you.
You can share details with patients by adding an HTML button on your website and creating a link to embed in emails and SMS for recalls and other communications at each of the key stages of a patient's journey with your practice. It can also be configured to be added to all your automation settings in Dentally. You will find more about your communications settings here.

Step five: Create a contactless journey
Use the Patient Portal as part of a contactless patient journey, allowing your patients to complete all necessary admin prior to the patient's arrival at the practice, keeping staff safe and making the reception a smooth process. You will also want to set up the system, the ability for patients to self-check-in when they arrive on-site, complete and update their medical history. and if you have an NHS England and Wales practice, you can also include the FP17 PR forms.
If the patient requires treatment, then the treatment plan estimates and consent forms that are created in Dentally can also be presented within the Portal for the patient to review and sign. Once completed this automatically updates within Dentally.
And, at the final part of the patient's journey through your practice in a contactless reception workflow, once the patient has completed their appointment, they can pay for their treatment and any outstanding balances on their account through the Patient Portal.
Deliver a great patient experience
Patient Portal provides a simple and seamless experience for patients, allowing a contactless patient journey to safeguard both patients and staff.
The Patient Portal can also be combined with Online Appointment Booking so that you create the ultimate end-to-end patient experience and allow your patients to view, book, reschedule, manage and cancel appointments.
Take a look at our comprehensive support articles on the Patient Portal for more details including our 'Best Practice Guide' and if you are interested in developing a first-class patient experience, request a demo of the Patient Portal today, simply email hello@dentally.coYour blog post content here…